Merriman was accused of being ring-leader of the Faithful massacre where eight shepherds were murdered at Benalla in 1838. History is not kind to him, it says he liked the taste of human flesh, killed his wife and was a troublemaker disrupting white settlement causing immense financial loss to the white men who came to his lands.
However, these descriptions were written though European eyes and do not attempt to understand the reasons for his actions or investigate whether he was guilty.
They said Merriman was the most dangerous of Blacks as he understood white men's ways and could anticipate their actions. He knew how they lived, knew their language, could speak it and even wore their clothes.
When the first white men came to Merriman's lands he was 14 years old and intrigued by the strangers and their extraordinary animals and iron tools he made himself invaluable to them. He became their friend, showing them where to plant crops and using his canoe to ferry goods across the flooded Murray River.
There is evidence Merriman's older brother Harlequin guided CH Ebden and AF Mollison to fertile lands near Mount Macedon where they set up stations.
But within a year or two, Merriman and Harlequin began to attack white settlers, raiding huts, killing men and animals and burning crops.
What happened to cause Merriman and his brother to change their opinion about the white men in their country?
Finding Merriman has taken many years of research and is the discovery of what happened 180 years ago through old journals, newspaper articles and historical records. It puts together the names of who laid claim to what land, identifying inciting events, the location and dates, identifying indigenous gathering places, axe quarries, places of ceremony and sacred places.
Finding Merriman is a website to compile this information, assemble drawings, photos and maps laying them out like a forensic investigation to discover the events during the first years of white settlement in north east Victoria in the hope of discovering what happened to Merriman.
WARNING: Visitors to this site should be aware that the following information includes discussion of deceased people that may cause sadness or distress, particularly to Aboriginal and Torres Strait Islander peoples. In particular, I acknowledge the Aboriginal ancestors of the regions of which I am researching, whose words may be quoted and photos included with the greatest respect for their legacy.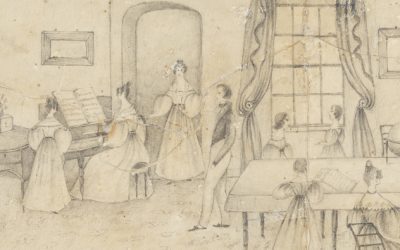 Elizabeth Broughton daughter of Gabriel Louis...
read more